Asteroid strike at 10:46 EST - film at 11!
A very small asteroid (2008 TC3) just hit us
as predicted by spaceguard
... right over Africa.
It was of harmless size (2 meters) but big by meteor standards. Spaceguard is getting gooood.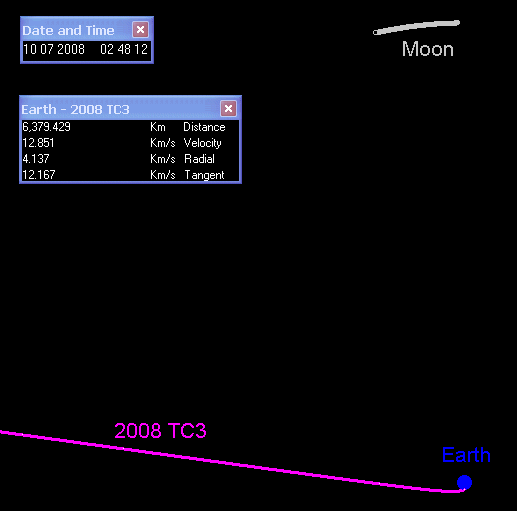 I sure hope some good pictures come from it. Will post as they come in....
Here's a simulated view from the last moments of
2008 TC3
:
Update
: I had kind of hoped for a picture by now from somewhere, as enough people were alerted... but it's late and I'm tired and going to bed shortly. The key piece of good news in all this was that spaceguard detected and plotted an asteroid on an intercept course for earth for the first time ever. I am really impressed.
The bad news is it was detected only a few hours before projected impact.
Update 2
: 2008TC3 broke up somewhere over the Sudan above such a sparsely populated area that it is likely no one got a picture. Here's a 6 minute exposure from before it entered Earth's shadow,
courtesy of a very good article about it
from the
National Planetary Society
: