This July should be good, with the 5th Falcon scheduled to fly sometime then.
If you prefer to be updated more regularly I highly recommend subscribing to the
arocket mailing list
, and adding a rss feed or 10 from the blogroll of
The chairforce engineer
.
Presently there is a lot of political manoeuvring around finding an alternative to Bush's VSE that the latest crop of politicians can put their stamp on. Much seems up for grabs, ranging from outright cancellation of Ares-1, to extending shuttle life, to swapping engines to the SSME in the VSE, to refocusing on getting to Mars via Phobos or the asteroids and comets.
SpaceX's Falcon 9 continues to make steady progress. 6 of the engines have checked out, the first Dragon capsule has been built, and Elon musk has been
talking up his story
in front of the Augustine commission. (
video here
)
1) Mike Griffin's departure from NASA occurred 6 months back, and a replacement,
Charles Bolden
was named. Although the two next-gen R&D projects (Constellation and Ares) are a mess, the rest of NASA is functioning as well as it has in a long time - All Griffin's shuttle missions were great successes. The magnificent Hubble repair mission puts a final feather in the cap of Griffin's NASA, with a second shuttle, ready on the pad for a rescue mission, also an impressive feat. Numerous instrument missions were launched without a hitch, even including Dawn, which was flying with nearly obsolescent hardware. The COTS program, also, appears to be successful.
(For the record, I opposed both the Dawn and the Hubble missions)
Griffin, the technologist, was better than his bean-counting predecessor by a country kilometer. Let's hope his shuttle pilot successor can navigate Congress and future NASA R&D as well as Griffin got our existing space assets to LEO.
2) Buzz Aldrin has been a very busy ex-astronaut lately, publishing a new book,
promoting a different vision for space exploration
, and even
recording a hip-hop song
.
Aldrin concludes:
"But for this dream to happen, NASA needs to dramatically change its ways. Its myopic Vision for Space Exploration will never get us to Mars. Progressive innovation and enlightened international cooperation will. President Obama and Congress need to set NASA right - and soon."
Aldrin's separate vision for space exploration dovetails more closely with mine (or rather, mine dovetails with his).
3) China - it would take more time today than I have to write about China...
try this for updates
. They are going to Mars this year, and plan to launch over fifteen satellites this year, too. Aldrin seems far more concerned with Russia than China, for some reason...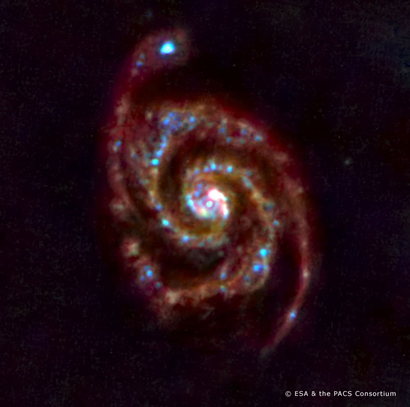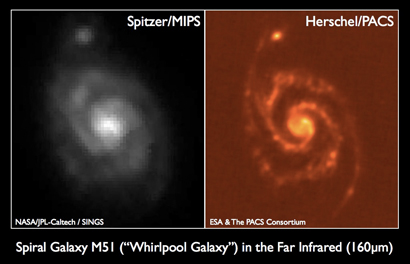 4)
Europe's ESA launched Herschel
, and the first images came back recently, the resolution (right) appears far superior to the American Spitzer telescope.
5) I have
been patiently waiting
to see if
more Apohele asteroids
would be confirmed. They are very difficult to detect using our existing methods. In addition to their potential hazard, they appear to be easy to reach from a delta-v perspective, and given their distance from the sun, exploration using solar powered devices appears cheap and effective, although heat is a problem -
163693 Atira
, a 2km in diameter asteroid, apparently has a temperature of 323 Kelvin (50 Celsius, 122 degrees F)!
I'd like to see an instrument mission launched, call it: the
Inner Solar System Explorer
(ISSE), which would look for and at asteroids and dead comets in the region between Venus and Earth, looking back at space from well within Earth's orbit.
Perhaps it would be able to get close-up looks at a few of the hundreds of rocks passing through.
5)
Asteroid 2008 TC3
broke up over Africa as expected, but it took a while to
find successful pictures
of the re-entry.
I was hoping we would get more data
, but the fragments were found, strung out in a line, by a bunch of volunteers....
Update:
While researching more possible points for this blog entry I ran across the
Columbia Crew Survival Report
.
Given my emotional state at the time, I hadn't bothered to read it when it came out.
I just finished reading it.
The report was a model of clarity, a tour de force of analysis, showing clear advances in the state of the art in debris recovery, computer modeling, and tracking, since the Challenger accident.
Emotionally, I did fine, until I hit the last (400th) page of the report, which had the following logo, which I had never seen before that moment.
AD ASTRA PER ASPERA * SEMPER EXPLORO
To the Stars, through difficulties * Always Exploring
Then I had one last good cry of grief, and determination.