SIRTF
space telescope was
successfully launched this morning
. Using SIRTF to see in the infrared, scientists will be able to see billions of years into the past and unlock more of the mysteries of the universe.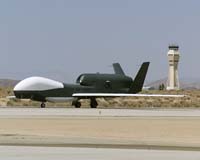 In other news the unmanned surveillance drone,
Global Hawk, got approval to fly nearly anywhere in America
. The press release stated that this
"paves the way for it to support homeland defense missions in national airspace."
Great. Now America's law enforcement can see millions of people in the present and unlock their mysteries. You'll note that this aircraft can do it without even a human at the wheel. Efficient, no? We've already seen some penetrating pictures from Global Hawk when flying over Iraq... now it
overflies Americans
! Technology, the two edged sword!
Global Hawk's fully redundant flight control avionics architecture allows it to fly a preprogrammed mission plan autonomously. This architecture, along with the use of systems such as a mode ``S'' transponder, precision altitude and navigation equipment, and UHF/VHF voice relay radios facilitate the UAV's integration and communication with air traffic control. Global Hawk also has the ability to file Instrument Flight Rules (IFR) flight plans, a function not performed to date by any other UAV system.
And while this post below is more concerned with
Big Brother, the TV show
....
What happens to, you know, life, when there are TV cameras trained on it twenty four hours per day? What happens to manners? What happens to the rules of how we ought to behave? What happens to the judgements we make of other people? When we see someone we know, and perhaps later meet up with, masturbating on camera, or scratching his bum, or having a seriously bad hair day, or cheating (maybe, hard to tell) on his wife, how should we then conduct ourselves?

These seem to me to be questions well worth preparing ourselves for. Big Brother (the TV show) is closely linked to the also much complained about "cult of celebrity".

But the "cult" of celebrity – which is really just being extremely interested in the lives of celebrities – seems to me to reflect the exact same pre-occupations as the reality TV shows. Celebrities are the people who are already enduring total surveillance. Their triumphs and agonies as they either try to dodge the cameras, or as they make rude finger gestures at them, or else as they try to be dignified when on them, are a taste of what the rest of us may have to be deciding about in years to come. Now the Beckhams, tomorrow it'll be us on camera. How do the Beckhams handle it? How will we?

I'm disturbed by how much the surveillance society has already progressed. I was on a bus in San Jose the other day and overhead was multiple dome cameras.
Now, overhead, hovering in silence, nearly invisible, will be a Global Hawk.
I know that Big Brother exists in all of us. We're all watching each other. It's a game. It has always been. There's no one "side" to it - people will always spy on other people, it seems to be human nature, and with the
commoditisation of information I guess we'll get used to it
, but I don't have to like it.