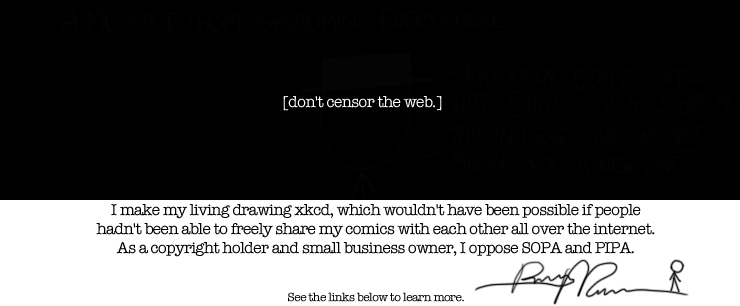 I haven't been paying a whole lot of attention to American politics of late. At least one variant of SOPA, as proposed, will mess with DNSSEC.
I believe - wholeheartedly - that DNSSEC has the ability to improve the security of the Internet for everyone. It's a critical component of my cerowrt project, comcast just rolled it out nationwide, many other providers are also doing so, and that has taken tens of thousands of people, over 10 years of effort to accomplish.
I have also been working for years to make DNSSEC just work, only to look up now, to see clueless politicians in the pay of a a few lobbyists playing with technologies they don't understand.
I've been busy this year, on
another front
- trying - and succeeding!! - making the Internet, actually better, for everyone.
It really bugs me to see all the time, energy, and money, that can go into screwing up the internet, especially vs all the time, energy, and money that goes into making it better.
I don't have a comprehensive grip on what sopa does, but
here's one reference
that seems good. Doc Searls
also ranted well
...
Seeing
wikipedia go dark today
, was a terrible, terrible thing. I'd like to keep the light of knowledge, burning bright, throughout the world, for everyone, all the time.
Labels: sopa