Getting more screen... with emacs
I have tried, and tried, and tried, to adopt one of the whizzy new editors out there, like eclipse. I get by on vi for small jobs, but always, when the job gets big, I fall back on emacs with etags, ecb and a few other tools. I can generally crash eclipse just by looking at it in situations when emacs chugs along nicely.
I've been staring at emacs for a few too many hours lately.
It really bothers me that emacs is the only tool left, it seems, that doesn't use anti-aliased fonts. There's been code in cvs for it for forever that moves it up to 2008 standards, but they aren't compiled in by default on most Linux distributions, so for years now I've had to compile my own emacs. I meant to do it for this machine on day one but never got around to it til this morning. Now,
there's a package that does it for ubuntu
that you can just install.
I just installed it.
Yea! Pretty emacs!
My joy lasted about 30 seconds.
I don't willingly do development on my laptop, my old eyes vastly prefer an 18 or even 20 pt font on a huge 22 inch screen, but that's what I'm stuck with... worse, I left my superduper customized .emacs file in Nicaragua....
I'd been running emacs out of a terminal window in sheer frustration, even then my eyes getting blurry after only 10 hrs of coding, and I loathe the emacs menu bars, the icons, and especially, the scrollbars. I don't want scrollbars - I have cursor keys, page up/page down keys, a mouse with a scrollwheel, why the hell do I need scrollbars?
;Die, scrollbars and screen fluff
(menu-bar-mode -1)
(toggle-scroll-bar -1)
Then there's this sorta half character gutter thing that offsets each window - I don't want that... and I can't remember how to turn it off right now.
Then there's maximizing my window to fill up my whole screen. I don't know how to do that from within Emacs,
so I use devilspie
for that... (There's some really good magic stuff on how X really works,
here
-
Then there's all these extra keys I have on my keyboard, the duplicated left and right alt keys, the !@#! microsoft key, I used to map those to useful stuff...
Then there's function keys. Why nobody uses function keys for anything anymore is beyond me. I am so carpal that I can't hit a control key in it's default location, but hitting F
is EASY...

There's just something about green that brings out the programmer in me. Can't remember how to do green... All that time spent in front of easy to read green terminals in my youth, the code printouts on green paper... And butterflies! I need butterflies to fetch me my .emacs file!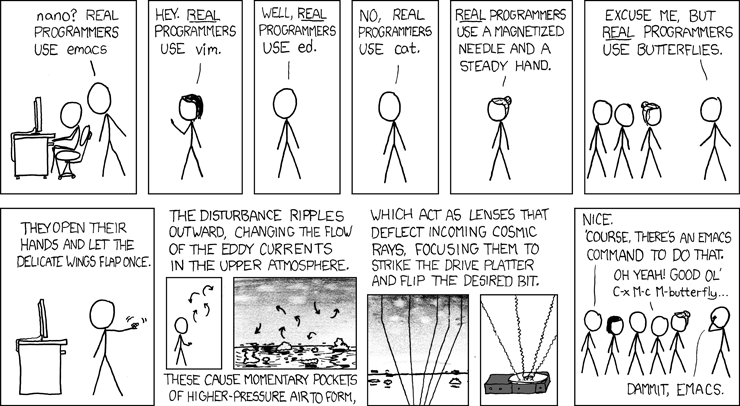 Labels: emacs, programming