Ron Paul - A reluctant conversion
I had planned to spend my spare hours this week working through my answers to my
top 10 questions for America
.
Instead I went back and
read the Oct 21, 2008 republican debate transcript
, and watched the video, twice, to try and see some sign of sanity in the Republican party. While putting myself through this torture I wished,
like the vodka pundit
, that I'd kept a bottle open during the debate and the replays, or watched the red sox, or done anything else but worried about the future of the USA.
The post-debate doublethink was the worst, the
bullshit
chest-deep on the spin-room floor. First, seeing the Fox commentors
dismiss the results of the text poll
, consistently,
after ignoring what evidence to the contrary exists
and
never investigating their own claims
. Then seeing the
MSM ignore that poll entirely
, and seeing msnbc report the
booing of Paul as their lead story
- as if Fox and BushCo
hadn't picked the audience in the room
. Going into this debate, I didn't know who the network pundit Luntz was, so I googled him. I've thought the phone polls skewed for decades; but what
Penn and Teller had to say about Luntz's street polling techniques
depressed the hell out of me. If the MSM would just run a scientific study of how the various polling techniques (street, phone, text message, and internet) actually represent reality, I'd be a lot happier. They've had 6 months to research the problem(s). For now I'll weight what non-MSM
people actually say
over
what any poll of any type
claims to be a result.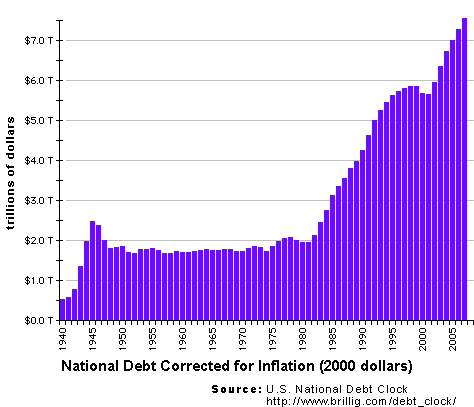 Yesterday, Bush demanded
46 billion dollars more in emergency funding
for the Iraqi occupation. Congress is going to give it to him, without raising taxes of course, but by printing money and further devaluing the currency.
Gold is up 18% since June
. The
Canadian dollar
, since 2002, is up from 61 cents to parity with the US dollar today. I see a lot of Canadian travelers where I live now, few Americans.
War is showing signs of spreading to Turkey
, or so the MSM tells me. Military budgets throughout the world, after a long downward trend, are up.
The popular Redstate blog
just banned Ron Paul participants
. Almost amusingly, they did it based on the idea that their site is private property. Where news commentary becomes private property, I'll admit, is a grey area, but I note that sites like slashdot.org tolerate a great deal of controversy and have implemented a comment moderation system that is both effective in eliminating trolls and democratic – a technological solution to a real problem.
As if the current crop of politicians and news sites on either side had any understanding of science or technology, or any interest in allowing alternate viewpoints. Hey, redstate! The
code to slashdot is free and open source
, you can just use it – I know, to you, that that might sound a bit socialist – but implement it or something like it! Don't shut your readers and writers down!
I can't vote for Hillary Clinton, primarily because I'm strongly opposed to a hereditary aristocracy in America. I'd be against another Bush, Reagan, Carter, Nixon, Johnson, Kennedy, Eisenhower, or Roosevelt for the same reason.
So, after sitting on the fence for a while, hoping someone better would show up, wishing that McCain didn't resemble
Bernie
, wishing that I could just drown my anger in drink or women or song... I just donated some money to Ron Paul.
I feel a little better about things, not much though.
Unlike some other paulites, I merely believe that he's pulling in the right direction, and that he (and I – and all citizens) deserve a voice in America. Also unlike some Paulites, I'd prefer that after losing in the primaries, that Paul sticks to what he's been saying - that he won't consider a 3rd party run - and go back to congress where he can continue speaking truth to power.
I would like Ron Paul to try to explain what a local government should do, and how, rather than what the federal government shouldn't. Most arguments I have with a libertarian start with "I live now in what some might call a libertarian paradise, and the roads suck. What would you do about that?" and go downhill from there.
Paul's speaking style drives me up a wall. His voice has a
tendency to go up an octave to make a point
and it grates on me. He's good, even great – edited down in
snippets on youtube
– but he's never going to go over well on television in a debate format. He does well in
one on one
s, and
comes across on the written page well
, in a campaign where I'm sure
half the candidates and half their supporters are nearly illiterate
.
The persistent allegations about Ron Paul's
connections to a hate group
really bother me. However it's a rare politician that can control who they shake hands with, and it's harder still to control who supports you - especially when you are not into top down control in the first place. I will pay close attention to further developments in this allegation, because it does worry me.
Paul's
paranoia
regarding
a North American Union
I find hard to take. Actually, on some days, I think adding the US to the rest of the Americas – voluntarily, as in the EU – would do a lot of good for most everybody - South Americans and Mexicans in particular - Imagine a CAFTA-esq treaty enforced between California and New York and you'll see what I mean. I'd rather have a voluntary association of states than an empire. On other days I remember the period 1850-1872....
But all these are nits compared to the egregious faults of the other candidates.
I
remember
back in 96 or so, when polygamous sexual behavior almost brought down President Clinton. Today, with most of the top candidates for president known for extra-marital affairs, it's no longer an issue for the MSM. It still is for me!
Frankly, when I see the squeaky clean and airbrushed Mormon Mitt Romney I feel a bit sorry for him - as he's one of the few that actually adhere to WASP morality in this election. As shown by the successes of the show
Big Love
, now in a third season - and of the other politicians in the race - polygamy is IN!
The sexual practices of Romney's religion were completely quashed years ago by a vile
overapplication of government force
. One saving grace of the current debate over gay marriage is that almost nobody advocates something as extreme as the
Edmunds Tucker Act
which both heavily fined and denied Mormon polygamists the right to vote, among other things.
Mitt! Unbend a little! Talk about the
life and times of great grandpa
! Talk about not what you can do for government but what government can do to you!
Ron Paul also adheres to conventional morality. He has had a stable marriage for 50 years. His position on abortion is stellar from my perspective - he's against it (I'm not) but all he proposes to do is remove this contentious issue from the federal realm, and return it to the states, which is far less invasive than what all the other candidates propose.
The marriage and abortion issues bore me. I don't feel these problems need to be solved at a federal level. They don't cost me anywhere near as much money as war, debt payments, social security and medicare do. Abortion and Marriage are just weapons of mass distraction used to distract us from the real federal priorities set down by the constitution.
In politics, it may be hard to control who you shake hands with, but it is a great deal easier to control who you take money from. I am in utter admiration of how Ron Paul's campaign
gets its donations
, and
who he gets them from
, and
astounded at the transparency of the process
. In stark contrast,
Clinton takes cash from anybody, even if they don't have it in the first place
, and I shudder at the sight of the list of the donors that the remainder of republicans and the democrats tolerate.
I'm going to go and answer
my 10 questions
in this blog, but more slowly than I'd planned. I think...
I'm going to write a bit of code that might institute fairness in the phone polls, and get some surfing in, to clear my mind.
Note: I'm not done posting the links in this blog entry, please check back later.
Labels: citizen revolt, clinton, election 2008, John Mccain, msm, Ron Paul