Taping out the Brand
Courtesy of
Captain Napalm
.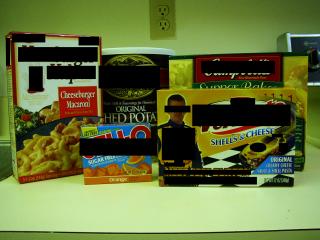 He says we've met. I don't remember it. I look at him and I'm scratching my head, when? Where? I'm getting old.
His blog kicked off old memories of AD&D for me. I remember when my friends used to get together, in the loft of the local toy store, and share an adventure. We'd solve puzzles, role-play out life roles, and use each other's skills to their advantage - sure, we'd battle monsters, but that wasn't the primary goal. Fast forward to today. While I know there's games like "EverQuest", and "Riven", I can't help but feel that most modern computer games drive people apart rather than brought them together. Doom. Duke Nukem. Quake...
To my old gamer crowd - Bob Pierce, Mark Mason, Ruth Stefan, Al May, Pat Orlando - and the rest of the 8th street irregulars - Thanks. I doubt we would have grown up the same way if we had played Doom, rather than D&D, together.
I like what Mr. Napalm said about one basic issue of transclusion - so few people on the web have actually read about what
Ted Nelson
wanted to do with hypertext. What we have on the web
is only a subset of what Ted dreamed up so many years ago
. Maybe in another 30 years - standards commitees willing - we'll really enter
Xanadu
.
Me, I'm going to go
hang out with Kubla Khan
for a while. Later.
mike